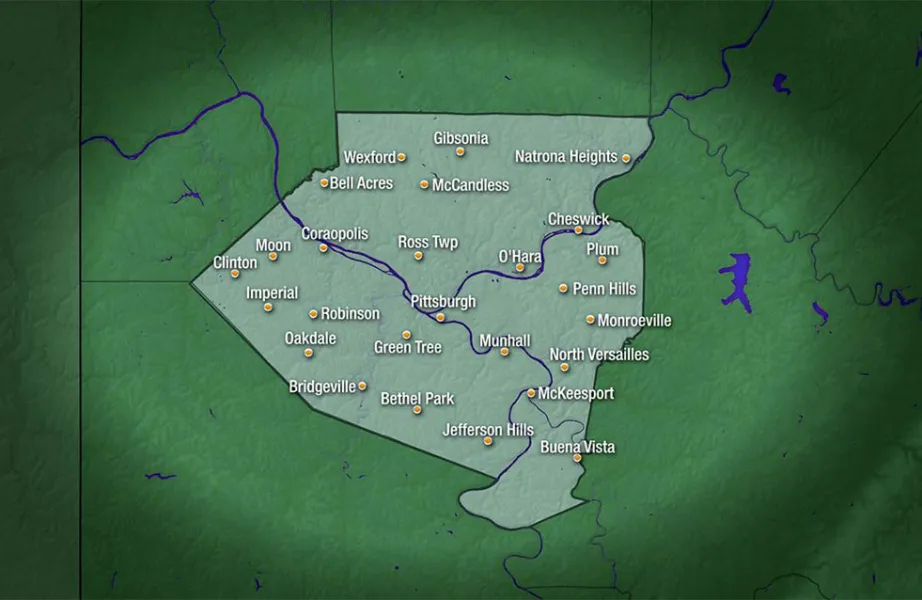 Service Area
Stahl Plumbing, Heating & Air Conditioning provides Pittsburgh, PA, and the entire Allegheny County area with plumbing services and HVAC repair and support. Call us with questions; no job is too big or too small! If you are experiencing any kind of plumbing problem, contact us today. When you contact Stahl, we guarantee that a real person will answer your call every time, no matter what time of day, and our dispatcher will gather all of the information about your plumbing repair needs and send a technician to your location as soon as possible.
Common Problems
Residents often neglect their plumbing services due to busy schedules, low water usage, or because they're new homeowners. New homes are prone to pipe bursts due to negligence and opting out of preemptive care. Pittsburgh homes come in all shapes and sizes, new and old. The history of Pittsburgh has allowed the city to hold on to its historic architecture and landmarks. The old pipes and configuration are outdated or not meeting regulation. Stahl has high-level technicians to tackle any project, commercial or residential.

Commercial Plumbing in Pittsburgh
Commercial plumbing in Pittsburgh can be a hassle because of cold days, excessive snow, rain, and unpredictable weather. Stahl provides excellent service whether the project is big or small. Commercial properties must meet regulatory requirements, code inspections, and be cautious of the weary weather. Stahl Plumbing, Heating & Air Conditioning ensures your business stay afloat in any condition. We inspect and perform quality checks to make sure each pipe is secure and safe. Large projects involve more intricate plumbing systems and require close attention to detail. Installing commercial plumbing is just one side of the coin. Your real estate property, new or old, requires regular checkups and maintenance to prevent leaks and pipe bursts. If you have not done so in quite some time, consult Stahl for your commercial plumbing needs.
24/7 Plumbing Services
Our service is top-notch, and we offer 24/7 plumbing services to take care of any problem at any time. We clean clogged drains, repair leaky faucets and pipes, and repair broken valves. Our technicians are certified in backflow management and will come out to service your commercial or residential property, as well as dye testing to ensure the sanitary sewer system is properly installed. Our experience in property management and development allows Stahl Plumbing, Heating & Air Conditioning to offer free estimates for large repairs or installations throughout the Pittsburgh area.
Get In Touch
No job is too big or too small! If you are experiencing any kind of plumbing problem, contact us today.